Presidente Figueiredo waterfalls
---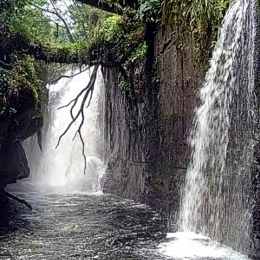 Full Day Expedition - Package & Rates Per person
Departures: Tuesdays, Thursday to Saturdays at @ 8:30 AM to 05:00 PM // NO departures on Holidays.
Minimum 2 people
R$ 270,00 per person
Children Policy
Always accompanied by parents or responsible person.
Up to 5 years old - Free
Up to 10 years old - 50% off
Price includes: Transfer Hotel-Presidente Figueiredo-Hotel, lunch (except drinks), excursions according the description above and tickets to access the falls included.
* The excursions can be changed under climatic conditions, but no loss for the passenger.
Recommendation:
- Drink mineral water.
- Bring light and comfortable clothes (short, T-shirts, swimming suit and towels), tennis shoes, sunglasses, sun lotion and repellent.
- Tetanus and Yellow fever shots.
The pick-up starts at 7:30 AM in downtown hotels with meeting point is at 8:20 AM at Tropical Ecoresort Lobby. The expedition departs at 08:30 AM from Tropical Hotel with destination to the town of Presidente Figueiredo, 107 Km far from Manaus. In Presidente Figueiredo, we visit waterfalls and rapids. They are situated in rocky relief, possessing one of the biggest arrangements of waterfalls. The forest and the waterfalls conjugate harmony of alive and exuberant nature for the meeting of flora and fauna. Lunch is included and local restaurant. The excursion returns in the afternoon with drop-off in the hotels.
* The order of waterfalls visitation may change and usually happens.
Presidente Figueiredo City, the scenery of adventure and ecological tourism, opens its gates for you. Created in 1981, the city received its name in homage to the first President of Amazonas Province, João Baptista de Figueiredo Terreiro Aranha (1798-1861). Accessed by BR 174 highway and sited 107 km north of Manaus, the city lives from mineral extraction, agriculture and tourism. In the second fortnight on May, the city celebrates the Cupuaçu Party, fruit of which is the largest producer in Amazonas State.
Its area holds ecological reserves, aboriginal areas (Waimiri Atroari), small mining farm, Balbina hydroelectric dam (70 km far from Pres. Figueiredo City), caves, grottos, lakes, rivers, small creeks (igaparés) and many waterfalls and rapids.
Further information Presidente Figueiredo