Amazon Safari
Regular tour
Politics for children
R$ 200,00 per person
0-5 years (free)
6-10 years (50%)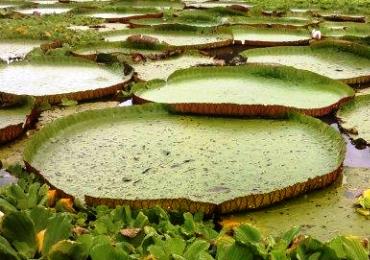 Including: Transfer hotel-port-hotel, speed boat for transportation, Portuguese/English guide, visitation fee and lunch (except drinks).
Departures: Tuesdays, Thursdays, Fridays, Saturdays and Sundays, from 9:00h to 16:30h.
Recommendation: Bring some exchanged for handicrafts and bar consumption. Light clothing, towel, bathing suit, hat, sunglasses, sunscreen and insect repellent.
ATTENTION: River dolphins are sensitive animals felling eyes and nose injured when in contact with certain products, like Sunscreen, cream repellent or tanning oil. Please, avoid/remove them before the interaction!
During drought (September to December), the visit to lilies is suspended, being replaced by a walk in the jungle glimpsing some species of plants of the Amazon.
Description
From the Port of Manaus, the river tour will start upstream towards the floating platform to swim with the dolphins. Then, the tour follows to visit the indigenous Village to participate of a ritual performance. After there, the tour goes downstream towards Janauary Ecological Park, to visit the Lilies Lake (Vitórias-Régias). There, it will be served a regional lunch at a floating restaurant (self-service). After there, the tour continues towards the community of Catalão Floating Houses, and then, a visit to see the phenomenon of the Meeting of the Waters. Return to Manaus.